Johan Emil Pico described by me.
A really great and bubbly dude, who knows a LOT about fashion, wears kinda expensive clothes…and looks like someone who was meant to live his life in Paris with a cat in one hand and a croissant in the other, while he probably would be listening to old rock and roll vinyls on a vintage record player.
But, luckily he lives in great grey Copenhagen just like me haha…and besides that he is also, in fact, a part of the Arket family.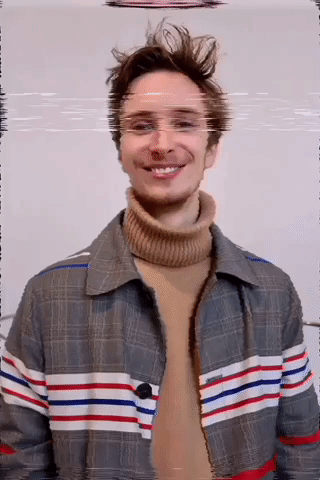 Describe your style in three words
"If I was to describe my style I would call it: minimalistic, French and rocker(ish)"
What are you wearing right now?
"Right now I am wearing: Saint Laurent Wyatt grey boots, Arket Slim-fit Trousers, Uniqlo Tee (you can't see it duh ), Ami Alexander Matuissi oversized knitwear and to top it off I am wearing an Oversized overcoat which is a sample from Libertin Libertin"


What's most important to you in an outfit?
"I build my outfit around my trousers/pants. Which is also what I find to be most important since I make sure that the rest of the outfit is matching whatever I am wearing on my legs. Side note: Some people style their outfit around their shoes, I CANNOT do that"
Who/what inspires you the most in terms of your style?

"Hmm, that's a good question. I think its maybe two or three things that hold equally much significance. one part might be what I see on the runway at brands I enjoy. Another would be the way I see people style their clothing in the streets or on the internet (fx the youtuber Sangiev)"
Favorite brands?

"My all-time favorite brand is AMI Alexander Matuissi. The pieces he makes all just speak to me. It has been described as, it might sound a little corny, but as tailored clothes for the streetwear generation (shout out to GQ). Other Brands the likes of Haider Ackermann, Saint Laurent and surely Craig Green"
What has been your biggest style failure?

"It might have been back in elementary school (?) when I decided to jump on the Closecut fade/ Quiff haircut, it really did not work out for me"

Do you have any favorite items in your wardrobe?

"YES! that I do. For one would be the AMI sweater that I'm wearing. My newly acquired Saint Laurent Wyatt Boots. Also my Large fit Ami Chinos, and last but not least my Niel Barret Derby shoes"

Which items are your Grail(s)?

"For one the Super Oversized sweater that Raf Simmons wore on the Runway, like 3 seasons ago… I'm not sure of the season, but that sweater I think is to die for.
The SLP Wyatt harness black leather boots are also a piece that I have just loved since the first time I laid eyes upon it"
What is your best style tip?

"My best style tip is: Feel Sexy. that's it. FEEL SEXY. when you feel sexy, or feel comfortable in your outfit you will automatically look better and more put together.
In the case that you want a direct styling tip of a piece of clothing, I would say: don't be afraid to tuck in a loose shirt/tee shirt. it looks like you have put more of a thought into an outfit that you might have"
Thank you